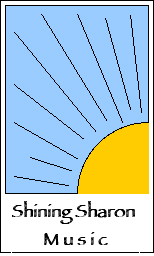 CURRENT CATALOG
You can download a print copy of the catalog (in PDF form): 2017SSMCatalogDec
---
WHY Shining Sharon Music?

I have been writing music for so long (I started at the age of 16 and was first produced at the age of 19) that the songs of Faith, and the songs for the Secular market, just kind of appeared as they needed to. (I usually write scores for the musical theatre.) On these pages you will find my thoughts about life and God. I make no apologies, they are my thoughts and I am entitled to them. If you like them, I will call you Brother, or Sister. If you do not like them, I will still call you Friend because you had the courage to try them out.
I have also added some songs to my catalog from dear friends of mine who are very talented musicians, but have little commercial outlet for their creativity.
ABOUT OUR PURCHASING PROGRAM
Available songs are provided to the purchaser as a PDF file through a return email after the payment has been received. Suggested form of payment: Send it through PayPal. Or use the PayPal Shopping Cart on our site. (It has a pull-down menu.)
Select the Package you desire below:
$3.00 for a SINGLE (SOLO)  package, includes the rights to maintain the electronic file on your computer and print up to TWO copies of the song (one for the singer and one for the accompanist) or PERUSAL (print of ONE copy) IN 2023 this price will go to $4.00
$4.00 for a DOUBLE (not always a DUET) package, includes the rights to maintain the electronic file on your computer and print up to THREE copies of the song (two for the singers and one for the accompanist) IN 2023 this price will go to $5.00
$25.00 for a Choir Package, includes the rights to maintain the electronic file on your computer and print up to TWENTY copies of the song (eighteen for the singers, one for the conductor, and one for the accompanist. If your choir is larger than 18 members, we ask that you purchase an additional Choir Package.) [This price is updating soon to the shopping cart files.]

To order, click on the ADD TO CART button associated with each title. It will send you to our PayPal shopping cart. If you want to order multiple titles, just use your browser's 'back' button to go back to the web page and order something else. Your shopping cart will be waiting for you when you are ready. Once we have notification of the payment,  we will send the requisite PDF files to your e-mail along with a license for you to print the requisite number of copies for your immediate needs.
If you have any questions, or want to place an order in a different way, please – E-mail us.
We also accept institutional checks in payment of an invoice.
For Schools and other institutions that work through Purchase Orders, we accept those as well.
Our sheet music is also available at sheetmusicplus.com (But you might pay more there for the same material you get here. However, if you have an account there, it might help you build your discounts and special offers.)
---
TO CONTACT US YOU MAY:
Use the CONTACT US page
---
Terms of Use:
Your use of this site constitutes your acceptance of the following TERMS OF USE:
Products and services available on this website are protected by copyrights, trademarks, patents, trade secrets and all other intellectual property and proprietary rights (collectively, "Intellectual Property Rights"), and any unauthorized use violates such laws. All rights are controlled by Shining Sharon Music.
Certain Shining Sharon Music copyrighted material requires a fee and/or a separate license agreement. Except as expressly provided herein, you may not copy, republish, create derivative works based on, or reverse engineer products or services from this website. You may not remove any copyright or other proprietary notices contained in the material. Copyrighted material may not be re-distributed or otherwise made available to others. Any rights granted by Shining Sharon Music constitute a license and not a transfer of title.
Any unauthorized use, copying or distribution of Shining Sharon Music's copyrighted material is prohibited by law, and may result in severe civil and criminal penalties. Violators will be prosecuted to the maximum extent possible. By using this site, you agree that the laws of the State of Maine, without regard to principles of conflict of laws, will govern your use and any dispute of any sort that might arise between you and Shining Sharon Music.
This site is provided by Shining Sharon Music on an "as is" and "as available" basis. There are no warranties of any kind as to the availability of this site or the information, products or services included on this site. You expressly agree that your use of this site is at your sole risk.
All sales are final. Please do not order any items until you are sure that you want them. We will replace defective items without charge if we are notified within 24 hours of receipt. In the case of downloaded scripts, we will not replace files that become damaged after 24 hours of download, so please check to make sure that your file opens and works properly when you download it.
All postings and information on this site are ©2012, 2013, 2014, 2015, 2016, 2017, 2018, 2019 by Michael Perry Productions